One of the most difficult and important decisions in a young person's life is trying to decide their next step after high school.
Some may decide to go to college and pursue a degree in a desired course of study. This can truly be overwhelming at times due to having so many options from which to choose. The financial aspect, academic requirements, and location play a huge role in making a sound decision. Add on the desire to participate in athletics and that decision becomes even harder.
Hoop Mountain Dubai Prep School and College Consulting has tried to help streamline this process.
The academy can assist in helping a potential student-athlete fulfil their desire of playing sport at a collegiate level in the United States.
Hoop Mountain Dubai uses its large prep school and college data base to contact coaches that are seeking quality basketball players. Coaches are always looking for talented players, solid students and great people to enhance their basketball programs.
After having an opportunity to evaluate many basketball players and other athletes alike in the Gulf region, the academy said it feels there are tons of talented players here. Hoop Mountain's coaches believe they can offer the exposure and guidance necessary to assist many Gulf region players in achieving opportunities to play beyond high school.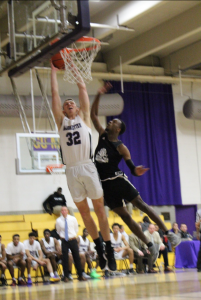 The inspiration for this service is that so many talented players go unnoticed in countries around the world now playing basketball. Hoop Mountain is making it a priority to change that distinction. With over 600 schools fielding basketball teams in the United States, there are plenty of opportunities for players to find a desired team.
Within those schools, there are 56 leagues with different talent levels. Also, each coach has his or her own philosophy and style of coaching. For instance, Grinnell College, Iowa, shoots two-thirds of their shots from beyond the three-point line. If you are not a strong three-point shooter, then Grinnell may not be your best option.
Of course, all incoming players must adapt to their new teams and coaching philosophy.
It is imperative for Hoop Mountain to assist each player in determining the best possible school in terms of team, style of play, academics, cost, campus life and location.
Certain programs have achieved great prominence with foreign players over the years. Marianapolis Prep School has a long track record of excellent players from the Gulf. Half of the student-athletes at St. Mary's College are from a foreign country. These two programs are already accustomed to recruiting players from all over the world.
Coaches tend to be creatures of habit by often recruiting from areas they are more familiar with and have had success. Hoop Mountain's mission is to shine a light on the many Gulf basketball players that have a dream of playing in the United States. This process is already underway with Ali Abdel-Jalil, a basketball player from Kuwait who had a passion for the game and aspirations of playing basketball at a higher level.
Ali began training at Hoop Mountain Kuwait and became well known by the coaches due to his incredible work ethic and positive attitude. The coaching staff identified Ali as a player capable of playing in the United States. Hoop Mountain worked closely with Ali's family and was able to identify the right United States prep school for him to play basketball.
The game of basketball has expanded world-wide and is therefore creating new opportunities for players around the world to pursue their dreams.
For thirty-five years, Hoop Mountain has successfully obtained scholarships and merit funding for its basketball clients. More importantly, once the decision of higher education school is made correctly, the experience for the student-athlete is fulfilling and rewarding.
This article was contributed by Hoop Mountain.