Give Ruby Hamilton a chance to perform on stage and you won't be able to pull her off it, such is her love of gymnastics.
Hamilton,14, has Down syndrome and in recent years found out she is on the autism spectrum. But the Horizon International School star said she knows she needs to push a little harder in order to get the best out of herself.
Training with Absolute Gymnastics, Hamilton is proud of what she has achieved, and continues to notch up further milestones.
"I have to work very very hard to learn what most other people learn easily. When I was born I had low muscle tone; but now I am strong!" she said.
"I struggled with speech and also still struggle with loud noises. When I work hard I feel happy but my caregivers have to push me hard on a regular basis or I will happily watch my iPad instead."
A coach encouraging her is Olympic gymnast Sarah Mercer and Hamilton shares a special bond with her coach.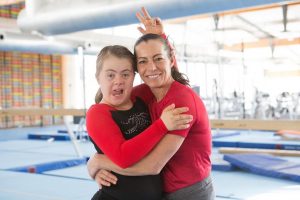 "My coach Sarah Mercer is my inspiration. I love her. Gymnastics makes me happy because I love my coach Sarah and my friends," she said.
The beam, the bar and rhythmic gymnastics are among Hamilton's favourite discipline and Mercer coached Hamilton all the way to the Special Olympics in Abu Dhabi last year.
Hamilton could have stayed in the spotlight forever.
"(The) Special Olympics was scary and fun. I was so happy in front of the audience, but Coach Sarah made me work hard. I competed in rhythmic gymnastics and the team dance competition," she said.
"It was tiring but very fun and I really enjoyed it. I loved that my friends and family were there with me. I didn't want to leave the stage and my coach had to drag me off because my whole school was there watching me and I just wanted to keep performing for them."
The experience was so significant that Hamilton already has the Special Olympics in 2023 in Berlin marked on her calendar.
And are there any last words from the young star tackling each challenge with a smile?
"Be yourself and peace out," Hamilton said.