Thomas Nesbitt,13, hasn't let the lockdown slow him down. Instead the Brighton College, Abu Dhabi student has kept formulating creative ways to fit practice in.
His commitment is certain to keep coaches happy at Manchester City Football Schools, Abu Dhabi Golf Club and the Harlequins where he plays all his sport.
Nesbitt unveiled a few ingenious inventions he's been using to keep up his skills.
What are the setups you have in your house to keep active?
Homemade Driving Range in the Garage – I got an old roman blind and hung it up over the garage door, then got some astro turf and used that as a tee box so I can smash balls against the blind and it absorbs the impact. I can use every club from my driver to my sand wedge so its been pretty robust. ( I did miss once and now there is a small dent in the wall!)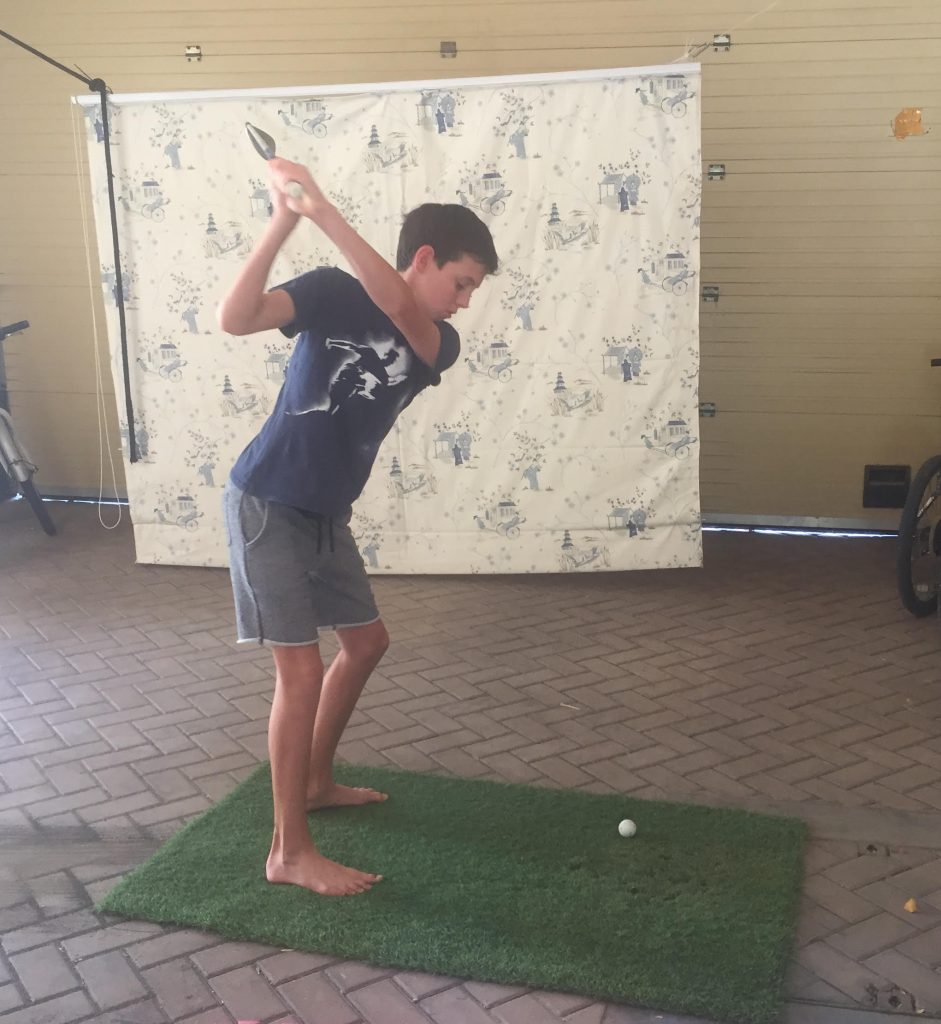 Chipping into inflatable pineapple  – My dad and I will have a chipping competition most evenings to see how many balls we can get into the hole.
Zoom Football Challenge – Zoom has been great for connecting with my City Football mates. we did a challenge whereby one starts and does all their tricks and passes the ball virtually to the next one who then does his tricks and so on. I was trying to master the 'round the world' I can do it on my left foot….still working on my right foot! City Football Schools have been brilliant at organizing zoom calls with the squad. So we have been having online sessions four times a week.
Table tennis against the wall – This is quite a good one between online learning, as I can just grab the bat and the table tennis ball and play  tennis against the wall and I don't get too hot as I can do it inside, and also listen to a few tunes. It's a nice break from the screens.
Bicycle kicks using a mattress – My sister dragged out a mattress to practice some gymnastic moves on, and I now use that to practice my bicycle kicks. I line it up in front of the bedroom door and try and get the football through the open door….still working on it!
What are you missing most about sport at the moment?
With CFS we trained four times a week and then had games at the weekend. I spend so much time with those boys and the coaches. I miss my teammates, I miss the team banter, I miss seeing the coaches. They are such a huge part of my week and it has left a massive hole.
I really miss the competition of the matches every weekend. I love playing football matches and that would be the thing I would most look forward to each week .
Of course, I'm missing the physical exercise. I miss the feeling of coming home exhausted. At the moment, I have loads of energy than I can't get rid of.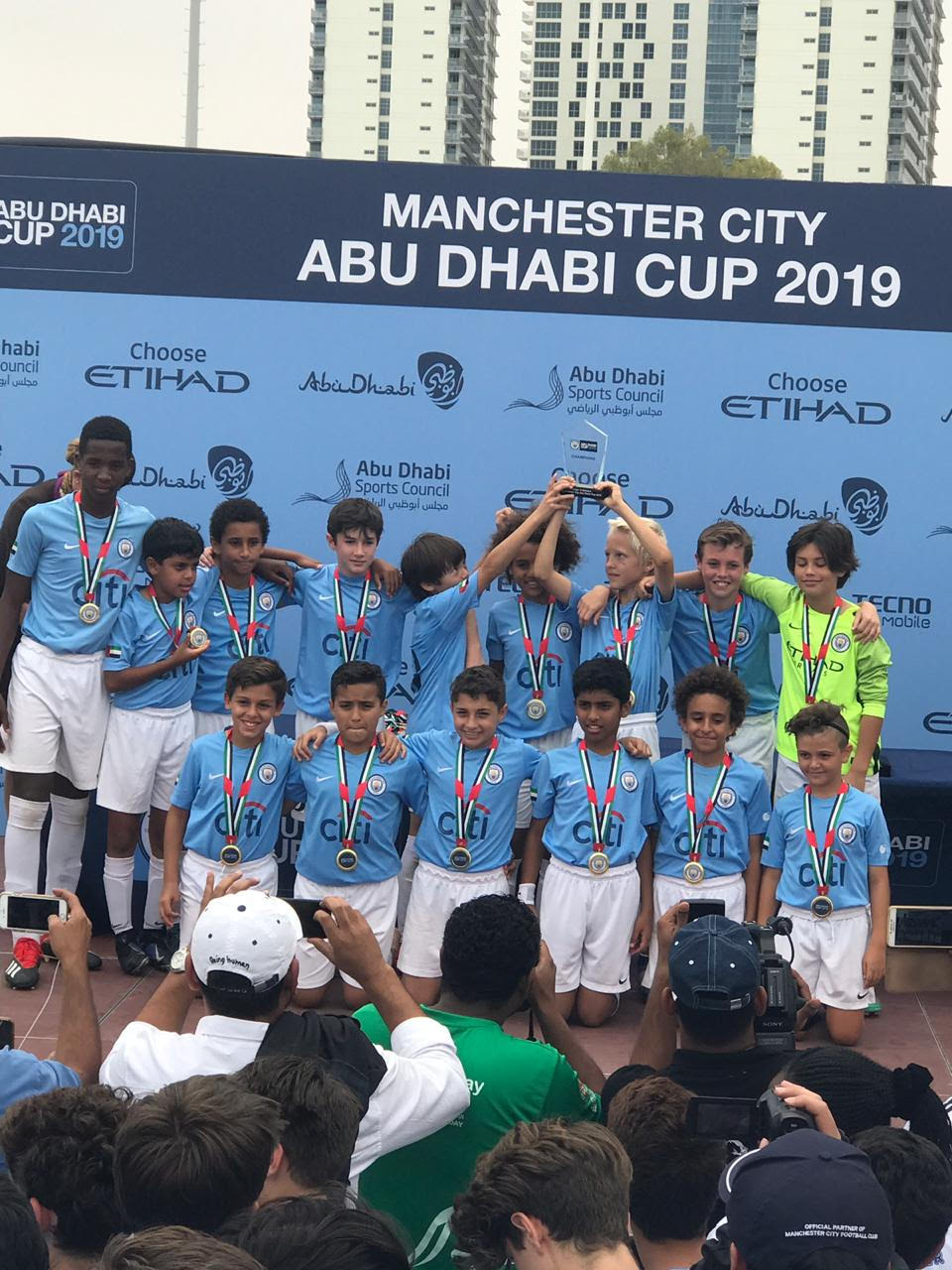 What are the best things about playing football?
I joined City Football Academy when I was six years old when I first arrived in Abu Dhabi.  I love the fact that it is a team sport and you share the highs and lows together. I love the fact that all you need is a ball and a pair of trainers, a couple of jumpers for goalposts and you can play it anywhere.  The great thing about CFS is that the coaches challenge you every week so you never get bored or complacent. They always make it fun and although we work really hard in training we are always laughing and having a great time.
Through the CFS Football Academy I was lucky enough to be a ballboy for Manchester City v Atalanta BC in the Champions League in October. Being up close to the players on the pitch was really interesting. Their work rate is unbelievable, even warming up they are so focused and then in the game itself the intensity is really high.
Can you provide information on your golfing experience?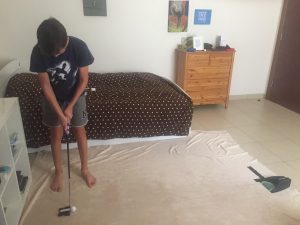 My dad is a scratch player so got me into golf around eight years old. My uncle was a golfer, on a US golf Scholarship and tried to get on the European tour but didn't quite make it. I found it a bit frustrating at first but also love the fact that it is such a challenge.
I was lucky enough to win an opportunity to tee off with the Pros in the European Tour HSBC Golf Champs at Abu Dhabi Golf Club. I was nine years old when I got this opportunity. It was on the Saturday of the Champs and I got paired with Tommy Fleetwood, Martin Kaymer and Rafa Cabrera-Bello. It was amazing. I had to hit a tee shot after theirs and then walk down to the green with them. My grandparents were watching it on TV in Australia, and got a bit of a shock because my parents hadn't told anyone I was doing it.  The golfers were so kind and really encouraging and that was the year Tommy went onto win it for the first time and I have been following him ever since.