Former English international cricketer Ashley Giles led an Infinite Sports webinar on leadership where he shared his views with eager listeners from around the world.
Capped in 54 tests, Giles will forever be remembered in cricket history as an integral part of the 2005 Ashes winning side.
Now holding a position as managing director of England Men's Teams at the England and Wales Cricket Board, he shared his thoughts from his lengthy time involved in cricket.
Giles' international career began in the late 1990s, spanning all the way up to his retirement in 2007.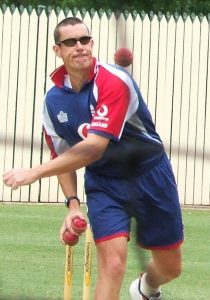 Then he began his coaching career at Warwickshire Country Cricket Club where he was appointed director of cricket, followed by a stint as coach of England's ODI and Twenty20 sides.
He said coaching for the same club where he played first class cricket set a standard he continues to strive towards.
"From my first coaching position as director of cricket at Warwickshire in 2007 to now I've learnt so much and continue to do so," Giles said.
"Perhaps I was lucky that my first job in coaching was at the county I played all my cricket at. So it shaped my thinking as a player and as much as an adult and human being because when you're in that environment it's just your life.
"One of the things I've always felt strongly about is that sense of legacy. This sense of legacy that we're only part of something for a relatively short period of time and it's our responsibility to hand it over in better shape than we found it, and that has continuously driven me."
Coaches part of the webinar were eager to gain an insight into Giles' thoughts on how to develop a captain, and a beneficial culture at a club.
"It takes a certain person to deal with those environments and the pressure where there are millions of people watching you," he said.
"Exposing them to pressurised situations that they're going to get wrong at times (can benefit leaders). I think that's a really key piece of learning is being able to get it wrong and feel safe to fail."