"Cricket's a game where you don't have millions of fantastic days, there's a lot of tough days and there's nothing better for me than watching a player practising and working at their game and showing that they have got the desire and the drive to keep improving.

"To be the best you can be takes a lot of guts, it takes a lot of determination, it takes being out of your comfort zone."
Those are the words of former England cricket assistant coach Paul Farbrace when he explained why resilience is integral in a sport where rarely a second chance is given.
Speaking to It's Just Cricket's Sam Charnley during an Infinite Sports webinar podcast he gave advice to players on how to find motivation in the nets, even when it feels like the day could be a ride off.
"We always say to players 'c'mon it's about working hard.' You can't work hard every day but you can show a certain amount of improvement every day if you've got the resilience and the guts and the drive to actually want to do it and it's not easy," Farbrace said.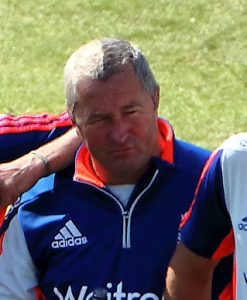 He said resilience is among the factors that led to England winning a sensational home World Cup last year, in a gripping victory that went down in history as one of the best.
In the unforgettable final, English batsmen Ben Stokes was stoic across his innings and batted through the super over to put his side in a winning position. In career best form, Farbrace said Stokes exemplified resilience.
"Ben Stokes in many ways over the last two years, his career has been about resilience. It's been about understanding the situation and showing fight and commitment for his team when it needed it," he said.
Farbrace coached Sri Lanka to a Twenty20 World Cup title in 2014 and he gave out advice to other coaches on how to build their players ability to adapt in difficult situations.
"Every player wants something different from you as a coach but the only way you're going to find that out is to get to know them as people. I think that one of the skills that you learn is the more you find out about the player the more you find out what drives them."
"Every player has a different motivation for playing the game and trying to succeed."