Eva Ramshaw-Roberts only started athletics training in September of last year, but by March this year she was a World School Games record holder.
Eva,13, always raced for The British School Al Khubairat at BSME and WSG events and decided to up her commitment by joining Ultimate Athletics.
The training helps extensively and she says her coach Youssef inspires her to "push up myself beyond what I believe my abilities are." That belief led Eva to a gold and a record at the WSG in Dubai in February.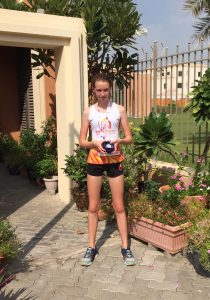 "One of my biggest athletics achievements is breaking the 600m record at the 2020 WSG. I won the 600m at the 2019 WSG and by 2020 I had improved my time by 10 seconds," she said.
Obsessed with sports, Eva competes regionally with 4th Lane Swim Academy and is a member at Capital Netball. A bit of natural talent has been dealt to her, but Eva is driven to better herself.
"I think all my clubs have been excellent in providing online programs and Zoom conferences to continue our fitness while we are stuck at home during COVID-19, but I cant wait to train with all my teammates again," she said.
"When sports continue I am looking forward to training, improving and doing races. Other than athletics I am looking forward to continuing swimming with 4LSA and netball with CNL and my school, and can't wait to train with my teammates."
We look forward to seeing you back on the track, in the pool and on the netball court!