Former FA communications director Adrian Bevington said "now is the time where nothing should be off the agenda" to ensure football in the UK and across the world remains viable post COVID-19.
Speaking to Dubai Eye's Chris McHardy during an Infinite Sports webinar today, the man who spent 17 years at the FA provided his thoughts on the direction of the game. He told listeners that other European countries would provide examples of where the UK's leagues could be headed.
"First of all we've also got to look at how things go in Germany over the coming weeks, obviously they're ahead of the curve in that regard so it'll be very interesting to see how that plays out. We've seen the Dutch FA react differently and at this time null and void (its season) although it looks like they'll be having further discussion on that," Bevington said.
"There are some massive challenges facing the industry. Football is a wealthy industry in terms of the revenue it generates but it's also an incredibly expensive business to run club football. Outside of those big elite clubs that generate big incomes, they're (remainder of clubs) still relying on the cash that comes in through the turnstiles and through corporate hospitality."
The top tier of the English Premier League is of course in a different sphere to lower divisions as well as those across Scotland, Wales and Ireland. Bevington said they should all be treated accordingly.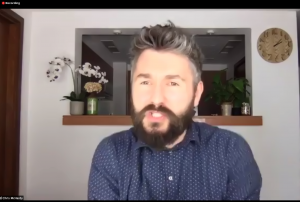 "I think you will see a lot of innovation, I think you've already seen a lot coming forward and being creative in how they're currently supporting the crisis. Let's be frank, football has really stepped up in that regard," he said.
"I look at clubs like Aberdeen up in Scotland are a very forward thinking club, they've got a really innovative leader in Dave Cormack up there and he's done a lot of things already with the supporter engagement. I've seen the way that Hibernian with Leeann Dempster have stepped forward and they've already gone with the front of shirt with the NHS for next season.
"It may be that there's not a one stop fits all here but whether there can be more centralised deals in regards to advertising, ticketing, sharing of data (and) kit deals where there's strength in unity rather than individuals chasing the same thing all the time."
With everyone hopeful live sport will be on our screens in the near future, Bevington said it would certainly give those at home some respite from a time when their lives have changed dramatically.
"I would like to see us still try and exhaust all the opportunities to conclude the season because I think for the sporting integrity that's better for everybody but I'm also conscious of the bigger picture as well," he said.
"Football coming back in whatever format will hopefully give people a lift. I think it gives people something to focus on and to hang onto over a weekend, and when it does come back it appears it will be played over a really short period whether it be six weeks where you're going to get wall to wall football. So we're going to go from absolute famine to feast."
With brilliant knowledge into football communications, Bevington said he said this period should provide some satisfaction for broadcasters, given huge deals for long seasons have been replaced by replays of old matches.
"The reality is there's no live sports so if you're SKY Sports or BT Sports in the UK, the minute you can start showing live sport again whether it be behind closed doors or not that's got to add value again," he said.
"As long as there's a good level of communication –which I'm sure there is – between the broadcasters and their respective leagues and associations there will be a pathway found through this because no one wants to be seen to be the organisation that is choking football or maybe potentially kills off some clubs so I think there's a lot of value to come from that."
Infinite Sports' next webinar is on Thursday April 30 when former Sri Lankan cricket coach and England assistant coach Paul Farbrace talks resilience within cricket and sport. RSVP by emailing: CPD@infinitesportsuae.com