Who would have thought to introduce basketball year-round in Kuwait by with an American company?
Musaed Al Saleh, a self-described Kuwaiti basketball junkie, had the thought and the vision to team up with USA-based Hoop Mountain in 2013.
The driving force behind Al Saleh's motivation was to offer Kuwaitis professional basketball training from American coaches. Other staples of the Hoop Mountain Kuwait program include exercising, sportsmanship, teamwork, and providing nutritional information.
Hoop Mountain Kuwait was a big sensation, despite the lack of popularity of basketball in Kuwait. In the first quarter of operation more than 250 girls and boys between the ages of 6-17 received instruction on a regular basis.
Dalia and Maitham Asad were the inspiration behind bringing Hoop Mountain across the Gulf to Dubai in September 2019. Their four boys were hooked on training from Hoop Mountain Kuwait and greatly benefited from the influence of senior coach Dwayne Okantey.
The coaches
The engine of Hoop Mountain Dubai is Julian King, a decorated former professional player and coach. King played for Hall of Fame coach John Chaney at Temple University and starred for fourteen years as a professional player in seven different countries. Ryan Yates, a star in his own right in the USA, followed his mentor Julian King to Dubai to serve as a coach and his enthusiasm for the game is contagious.
In a few short months, King and Yates have developed close ties with their students. Even during the recent COVID-19 closures the coaches have been in constant contact with their players.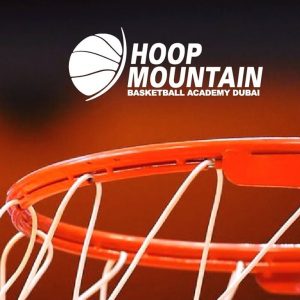 "Even though we are not able to provide live instruction, we still maintain daily contact with our players," King said.
Instead of sending out instructions on the court, the coaches take players through a daily warm-up, strength-building exercises, and basketball skill training online. King also tries to excite players about the sport's background in his "King's Court" videos, engaging athletes in stories about the history of the game.
With eight months in Dubai behind them, King said Hoop Mountain's mission "is to create a culture for basketball enthusiasts to learn the game properly," whether they be novice or experienced players.
The academy worldwide
Hoop Mountain was established in 1986 in the USA and since then more than thirty-five NBA players and thirty NBA coaches got their start at the academy. Since the inception of Hoop Mountain in Boston more than 25,000 players have passed through their doors via annual camps, clinics, college showcases, tournaments, and special events.
Hoop Mountain sports many successful franchises all across the USA and after launching franchises in Kuwait and Dubai, Hoop Mountain is seeking to expand in the Middle East. Famed NBA trainer, Rob McClanaghan, who has trained the likes of Lebron James, Kevin Durant, Anthony Davis, James Harden, and John Wall is a partner with the Hoop Mountain Franchise.
For more information on Hoop Mountain Dubai please contact Coach Yates at Ryanyates@hoopmountain.ae
For more information on Hoop Mountain Franchises please contact Steve Gibbs at sgibbs@hoopmountain.com