Remember all the backyard sporting events you'd host with your siblings? 
Epic football battles in the backyard that always ended in 'last goal wins' or less conventional games that were made up as you went along.
Siblings have returned to using their imagination and while some are lucky to have a brother or sister to spend time with in the backyard, others are feeling a little too confined.
Benjamin and Theodor Eisser are both keen footballers with Theodor a member of City Football School's U11 development squad and Benjamin a former player at the academy. 
Younger brother Benjamin,9,  said he wouldn't mind a break from older brother Theodor,10, "because I have to see him every day."
But Theodor said while there might be a few arguments on the sporting arena that is their Abu Dhabi backyard, usually the whole family is in on the action.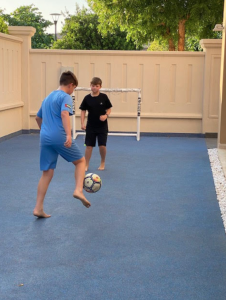 "It's nice to be able to play outside with him during my breaks…we do fight a lot too. We play outside every evening with my dad too, and sometimes my mum," Theodor said.
Both German International School students do agree on the fact their dad has been a positive part of the their footballing development.
"My dad has been very influential and always helps me to practice and get better. The CFS coaches also have a huge influence because after every match they give us feedback," Theodor said.
The honesty of the Eisser boys shines through again and Theodor said he has learnt a lesson in accepting constructive criticism to help him reach the next level with football.
"City Football coaches are the best because they are very supportive and are interested in my football. I don't always like what they tell me but in the end l know is it for the best," he said.
"I really miss the training, playing the matches on Saturdays and seeing my teammates and, of course the coaches. The best thing I like about playing football is that you can do it anywhere as long as you have a ball. I also like the fact that I can meet people outside of my school."
Along with football, both boys did Muay Thai and were a part of Neptune Swimming Academy to keep fit prior to COVID-19 closures.
Benjamin said one of his notable achievements was being selected player of the term three times at CFS while Theodor is proud of being named most improved at the end of the 2018-19 season.
In years to come the brothers will likely reminisce and laugh about backyard battles, but for now they look forward to some social distancing from each other.