United Arab Emirates kart driver Georgie Zouein took a trip back to his homeland in 2016 to compete at the Canadian National Championship. Little did he know the profound impact that trip would have on him.
In the lead up to this race the Dubai International Academy student and his dad Ronald were strolling the streets of Toronto when the young driver was struck by the homeless on the street.
He then finished pole during the qualifications in his category at the national championship, receiving Canadian $300 for his achievement.
But Georgie could not remove the thought of those less privileged than him from his mind and he said he decided to donate the money to charity.
"My dad asked me what I wanted to do with the money and I said I wanted to get something for me, I wanted an iPad," he said.
"But I remembered what happened in Toronto and I said I want to donate and I want to help poor people, I want to donate half my money to the poor and keep half for myself.
"But dad said 'it's okay use all your money to donate and we'll help you get an iPad and that was my first donation."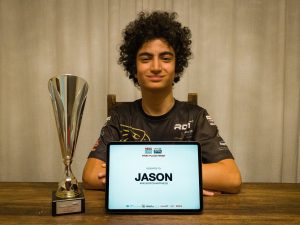 Later that year the idea was turned into a charity program called Racing for Happiness which has continued. Each time Georgie wins a race or makes a landmark achievement he donates to Centre Mar Semaan — a charity that looks after underprivileged and orphaned children in Lebanon.
More than 50 children have been helped by Georgie since 2016 and he said he hoped his charity can bring a smile to more children.
"We are all very happy and we have a lot of things— technology and all sorts of things—so I wanted to helped kids because I want them to experience the joy and fun that we have nowadays," he said.
The charity was a finalist in the Arab Hope Makers awards program last year and he hopes to be more successful on the track in order to further both the program and his sporting career.
Georgie was born in Montreal in 2005, but has spent the past decade of his life in the UAE and on the track signs are also looking bright.
His is currently occupying second place in the standings at the UAE Rotax Max Challenge in the Junior Max category, with one round left at Al Ain Raceway at the end of the month.