Jumeirah English Speaking School students are impatient to start their U-13 World School Games campaign.
Eagerly anticipating their chance to compete against teams from around the world at the three-day Dubai event, the school has been putting countless hours into preparing.
From added hours at school to be ready for athletics on Thursday to competing in external tournaments, coach Daniel Main said his squad is ready to go.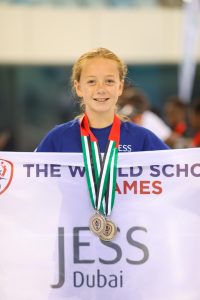 "JESS are looking forward to competing against schools from all over the world this weekend," he said.
"Our students have been competing regularly in football and swimming competitions across Dubai and in preparation for the athletics events we have given extra time in PE lessons to ensure we give ourselves the best chance to perform on the day."
JESS was well represented at the U-11 World School Games just a few weeks ago and the older age group is eager to now have their turn.
"For most students this will be the first experience of the World School Games," he said.
"We are all very excited about testing ourselves against opposition from around the world and the students are looking forward to a weekend packed full of sport!"