Ojasva Singh was destined to be a swimmer.
Known as OJ to his teachers and schoolmates at Repton School Dubai, the 13 year-old started building up his freestyle technique in the bathtub as a toddler.
Now he shows exemplary commitment to the sport, having not missed a session all term.
Enjoying freestyle, backstroke and breaststroke, OJ said it had not been a tough demand to take to the water for each training.
"I have without fail attended pre and post school training sessions without a single lapse as I am passionate about swimming and how seriously I take this sport," he said.
"I train regularly as per the assigned schedules, needless to say it is always fun to train with friends and my school coach.
"I like the speed of the sport and always try to beat my previous timings. Regularly swimming has made me more healthy and disciplined."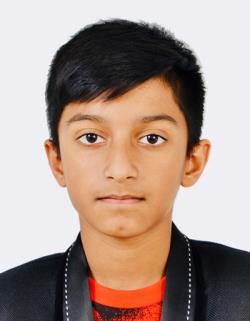 Unsurprisingly OJ's dedication means the multi-talented star makes sure to balance his time in the pool with his schoolwork.
"Swimming is my passion and I would like to pursue it as my second profession in future apart from academics," he said.
"I am also also aiming to win in national and international competitions in the coming future (and another goal is) representing and winning medals for Repton at various competitions."
Repton head of swimming Dawn McCarthy said OJ was a delight to coach.
"He is an absolute star to teach, he is always on time and always gives 100% effort," she said.
"His times have improved steadily over the term….. and he is always smiling!"
And the student heaped high praise on his coach too.
"Ms Dawn is my mentor and inspiration who make me feel like a proud Reptonian," OJ said
"(I'd like to thank) Ms Dawn McCarthy and coach Mr Philips, who have always encouraged and motivated me to perform my best."