Nine-time gold medal winning athlete Carl Lewis will be the star attraction at the International Sports Innovation Conference in Dubai on Monday.
Along with winning four long jump gold medals at the Olympic Games, the American athlete won the 100m, 200m and 4x100m relay gold on his Olympic debut in Los Angeles in 1984.
This matched Jesse Owens' feat of winning four gold medals in the same events at a single Olympic Games which he achieved in Berlin in 1936.
At the 1988 Olympics in Seoul, Lewis defended his 100m crown and bagged a silver in the 200m, and in 1992 Barcelona added another 4x100m relay gold to his collection.
Remarkably Lewis' 65 consecutive victories in the long jump is one of the sport's longest undefeated streaks.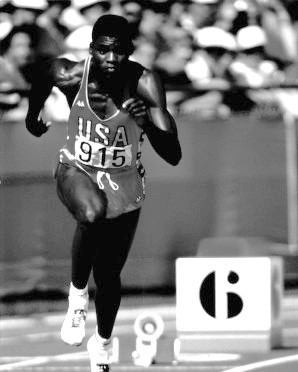 His success may have been destined as Lewis was grew up in a family of athletes.
Lewis' mother Evelyn was a hurdler who represented the USA at the 1951 Pan-Am Games and his father William was a coach at a local athletics club.
His elder brother, Cleveland, played professional football for the Memphis Rogues, and sister Carol was an elite long jumper who won bronze at the 1983 World Championships.
Watching on and listening to Lewis' words will be young athletes already well established in their career.
Medal winners at last year's youth Olympic Games in Saudi Arabia's Mohammed Al Assiri (gold medal, karate), UAE's Omar Al Marzooqi (silver medal, showjumping) and Egypt's Ahmed Elgendy (gold medal, pentathlon) will all share their story at the event.
The inaugural International Sports Innovation Conference is run by the Mohammed Bin Rashid Al Maktoum Creative Sports Award and will be held at the Hilton Al Habtoor.
Focusing on a theme of 'tolerance and peace in sport' other keynote speakers including African Olympian Kirsty Coventry, now Zimbabwe's Minister of Youth, Sport, Arts and Recreation, and Dr Sonia Ben Cheikh, Tunisia's Minister of Youth and Sports.