11 students, three teachers, four days and one almighty challenge.
That's what was facing the students of GEMS Wellington Academy Al Khail – and their families – when they set-off for the 70.3 IRONMAN Middle East Championship Bahrain event this past weekend.
Since being established by WEK teachers Mr Ashby and Mr Lucas, Team Tri-umphant has developed into a thriving community where teachers, students and families come together to get outside, get fit, and stay active, as Mr Lucas explains,
"Mr Ashby and I set the club up in 2017 to give our students the opportunity to learn the fundamentals of Triathlon in a fun, friendly environment. We started with a handful of kids – we now have 25, plus their parents, and it's growing all the time – it's been a real success story." 
After months of preparation, the Team Tri-umphant coaches and athletes, accompanied by an enthusiastic support crew of Mums, Dads and siblings, travelled with Trans World Educational Experiences for an experience unlike any they've had before.

After a day of culture and sightseeing on Thursday, an action-packed Friday saw the junior athletes compete in the Aquathlon (run & swim) and Iron Kids races, whilst Miss Clarke and several of the mums that had accompanied the group completed the Iron Girl 5km road-race.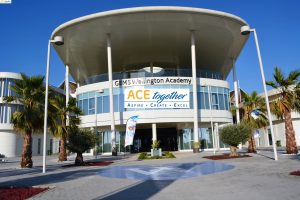 Former WEK student Lucas, who despite transferring to Dubai English Speaking College continues to train with and compete for Team Tri-umphant, was the hero of the hour after a stellar performance saw him claim 1st place and an impressive trophy in the 10-11 year-old category.

Friday evening saw the group take on arguably the toughest challenge of the weekend; finishing off the gigantic portions at the Cheesecake Factory!
On Saturday, it was the turn of Team Tri-umphant leaders Mr Lucas and Mr Ashby, who took on the gruelling Bahrain Ironman 70.3 course; a 1.9km swim followed by a 90km bike ride past many of Bahrain's most famous and scenic landmarks, before finishing with a 21.1km run in the midday sun through the heart of Manama.
And they were cheered on all the way by WEK students, Adam, Zeinah, and Ridha, who had all risen in the early hours of the morning to volunteer at the event, where they spent over six hours handing out water to the thirsty competitors.

Miss Clarke, who was in charge of the volunteers, was gobsmacked by her students' dedication.
"I couldn't be prouder of our students. They literally worked non-stop for six hours straight. All of their hands are covered in blisters from opening so many water-bottles, but they didn't complain once. They're a credit to their families and the school."
Clearly, all the support helped them on their way; Mr Lucas achieved a personal best time of 5hrs53mins, whilst Mr Ashby recorded an impressive 6hrs8mins.
Despite his own achievements, Mr Lucas was keen to focus on the successes of his protégés.
"I'm just amazed at how far the students have come in such a short space of time. Some of these guys could barely swim or ride a bike six months ago; seeing how much they've gained from the experience has made all the hard-work worthwhile."
Congratulations to everyone at Team Tri-umphant; an outstanding success story!